In August 2017, we were featured by Zazzle as the monthly featured designer/associate. And since we have just cashed out a check from Zazzle, I thought I would use this opportunity to make an introductory guide on how to generate income from your blog with Zazzle.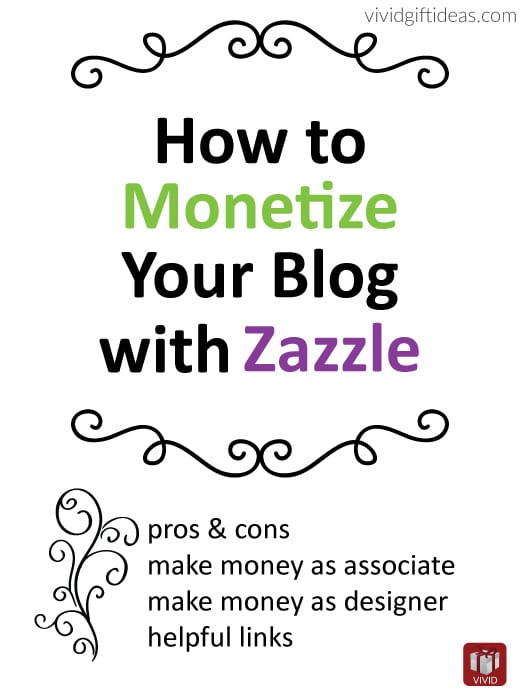 Established in 1999, Zazzle is a global online marketplace that allows designers and consumers to design and create their own products. There are two ways to generate income for your blog with Zazzle: (1) by becoming a designer/seller, (2) by becoming an associate.
In this comprehensive guide, you will find all the information you need to get started and how to successfully monetize your blog with Zazzle.
1. What Exactly Is Zazzle
Zazzle is a POD (Print on Demand) service that comes with a bustling online marketplace. It is an American company that has a strong global presence. Throughout our years of dealing with Zazzle, we have sold merchandises to countries like Japan and Netherland. To date, we have had pretty good experience with Zazzle.
As a POD company, Zazzle allows you to sell a physical product by simply uploading a digital design file. Logistics work like sourcing and interfacing with a manufacturer and customer services are taken care of by the company. Its online marketplace helps provide exposure and customers for your design.
2. The Advantages of Working with Zazzle
2a. Zazzle Takes Care of Everything for you
Everything besides the design aspect is handled by Zazzle. From dealing with the vendor to manufacturing to handling customer return and feedback. It allows you to spend all your energy on what really matters — the end product itself.
Working with a POD company like Zazzle frees you up from having to keep inventory. The system is flexible and agile — you can launch a new product line with just a few clicks. Decommissioning a product line is just as simple. Traditionally, this would have required a lot of time, effort, and money.
2b. Hundreds of Products for You to Work with
The variety of products that you can design is extraordinary. There are literally hundreds, if not thousands, of products that you can sell. There are t-shirts, bibs, mugs, posters, canvas, and other great template products that you can make use of.
2c. Great User Interface (UI)
The user interface is clean and intuitive. Although that was not always the case, Zazzle has improved tremendously in terms of their UI in the last couple of years. Almost everything can be done with a simple drag-n-drop. That includes uploading your design and positioning it on the merchandise.
2d. Flexible Royalty Settings – Decide Your Own Profit Margin
You choose how much you want to make from your products. Zazzle simply sets a base product cost for each product, the profit margin is entirely up to you. Adding the product cost and your royalty fee gets you the final product price, which is what the customer will pay.
Allow me to provide an example. Say the product cost for a product is $10, and you would like to get a $1 profit. The final price becomes $10 + $1 = $11 (9% profit margin)
(Note that there's an additional 7% fee if the royalty fee that you're charging is more than 15%.)
2e. Great Seller Support
Zazzle cares about its sellers. It routinely publishes useful tips and tutorials to help its seller to improve. They also offer a tiered professional program to sellers who have made a certain amount of sales in terms of dollars. Pro sellers (bronze and above) get VIP-level treatments like free annual business cards and pro-only newsletter.
Through its blog, Zazzle also selectively helps to promote its designers and associates. They were kind enough to feature us in their Aug 2017 article.
2f. Zazzle Associates Program
Zazzle offers a 15% commission for each sale. The cookie validity period is as long as 45 days, which is much more than Amazon Associates (24-hour cookie). The refund rate is less than 1%, so you get to keep your commission 99% of the time once a sale is closed. Also, another great selling point of this referral program that I have to highlight is that you can make commissions off your own product!
For example, you have a product selling at $20, the cost is $16, the profit should have been $20-$16=$4 (20% profit margin). But with Zazzle Associates, you get 15% commission off the final price, that's $20 * 15% = $3. The total profit you are making off this sale is now $4 + $3 = $7 (35% profit margin!).
As you can see from the example, there's absolutely no reason to not join the Zazzle Associates program, especially if you're already a seller.
3. The Disadvantages of Working with Zazzle
I think it's only fair that we spend some time to talk about the disadvantages as well. Overall it's a pretty great company to work with, but like most things in life, Zazzle isn't perfect. Here are some of the disadvantages.
3a. Long Turnaround Time
This weakness is actually common to most POD services that I have seen. The processing time usually takes 2-3 days, some users have reported on the Zazzle forum that it could sometimes take longer than that.
3b. High Final Product Price
The product cost in Zazzle is much higher than if you source it yourself. This, of course, makes sense because Zazzle has simplified the pricing by including the fees of managing logistics and customer service as part of the product cost. But this does mean that your final product price, after adding your royalty fee, can be much higher than products manufactured in the traditional non-POD way.
The higher product price means that you will probably be getting less price-sensitive customers.
3c. US Withholding Tax
This is only applicable for international sellers. If you come from a country that has no tax treaty with the US, there will be a 30% tax on the income generated through Zazzle. So don't be surprised when you only get 70% of the amount that you earned. The other 30% has of course gone to Uncle Sam's fed pocket (pun intended — the 30% income tax for nonresident aliens (NRA) does go to the US federal government).
4. How to Generate Income with Zazzle
Now that we have looked at the pros and cons of working with Zazzle. Let's dive into how you can actually generate income from it.
There are two ways to make money with Zazzle. One is by recommending products through its Zazzle Associates referral program. Two is by selling your design on Zazzle marketplace. We'll be providing more details for each of them in the following sections.
4a. Make Money as a Zazzle Associates
Zazzle Associates Program Requirement
Every Zazzle user can become an associate (note that you have to 13 years old or older to become a Zazzle user). There's no geographical limitation that I know of, which means all countries are supported including Canada, Mexico, India, and Malaysia.
Zazzle Associate Program Payout
Whenever you make a successful sale, you get a minimum commission of 15% of the final price. The cookie length is 45 days, which means that if someone clicks on your referral link, as long as he makes the purchase within 45 days, you will still get the commission.
15% is the minimum rate because the more you sell, the higher the commission rate gets. For example, if you manage to sell more than $1000 worth of products, you get an additional 5% bonus. $5000 and above? 12% bonus. So on and so forth.
There are two ways to get paid: via Paypal, or by check. To get paid, you first have to hit the minimum threshold of $50 for Paypal, or $100 for payment by check. You can also set a threshold if that works better for you.
How to find a Zazzle Product to Promote
Obviously, you will want to find products that convert well with your audience. To really understand what your audience like, you will either have to look at your Google Analytics stats or try to predict what they like based on your blog's theme. For example, if your blog is primarily about kid's craft and parenting tips. Kids products or humorous products poke fun at parenting will probably work well for you.
Once you have a rough concept of who your audience is, it's time to get yourself familiarized with the Zazzle marketplace. Zazzle marketplace is a lot like Amazon, but much simpler to use. You can find out what's trending on the homepage. From there you can either search for products using a specific keyword or choose the category that interest you and zoom in from there.
Once you get to the product listing page, you can start looking for products that appeal to you and your audience. I usually look for products that have the best price-design balance. A product design with too expensive of a price tag may or may not work well for you, depending on your audience.
Creating a Referral Link
Once you have found the product to promote, you will need to create a referral link. Without a special referral link, there's simply no way for Zazzle to trace to the sale back to you and credit you with the chi-ching. There are many ways to create a referral link, but my preference is to do it the old-school manual way, which is to add ?rf=<YOUR ASSOCIATE ID> to the back of a product URL. For example, if your associate id is 12345678910 the product URL is
https://www.zazzle.com/pink_flamingo_personalized_flip_flops-256064093784816474
To make personalize it into your referral link, simply add ?rf=12345678910 to the back of the URL like this:-
https://www.zazzle.com/pink_flamingo_personalized_flip_flops-256064093784816474?rf=12345678910
Simple? I think so. This works for a store URL too:-
https://www.zazzle.com/storename?rf=12345678910
Make More Money by Promoting Your Own Design
One great thing about the associate program that you should take advantage of is that it allows designers to earn commission by recommending their own product. I have already talked about this earlier, but in essence, you could improve your profit margin by 15% or more this way.
4b. Make Money by Selling Your Design on Zazzle Marketplace
Another way to generate income from Zazzle is by selling your own design. This does require some graphic design skill. The required skill level, of course, depends on the kind of designs that you're trying to make. In general, our designs are more message-centric than graphical.
What Product Should You Make?
Assuming that you'll be using your blog and social media as the main marketing channels for your product, your products will need to be something that you know will appeal to them. Another factor to consider is your graphic design skill. If you're good at design, you can go for more complex graphics; if you're not that good at design, perhaps start with simple text-oriented designs or outsource it to someone who is great at graphic design.
Have a Product Plan
I know it's tempting to jump into your first design right away. However, you will find that having a simple product plan a more efficient approach down the road. It doesn't need to be complex, but it planning and grouping your designs help provide clarity on the marketability of the products among your audience. Using the same mom blog example above, your product plan would be something like.
Funny Parenting Quote Mugs: (1) Happy Holiday! (Except there's no holiday for parents), (2) Keep calm and raise your kids, (3) I love my kids
Humorous Kids T-shirt: (1) Are we there yet? (2) Mom, mom, mom, mom! (3) etc.
Creating Your First Design
Now that you have a plan, get ready to create your first design. But first, head on to Zazzle.com to get the guide files for the product that you're designing. Guide files are empty templates that Zazzle is tuned to place on the merchandise. You can create your own template from scratch by using the image dimensions provided by Zazzle. For us, this had been a trial-and-error process. Once you have uploaded and placed your design on to a merchandise, you can choose to resize and align it. And when you're happy with how it looks it's time to move on to the next step — listing details.
Filling up Listing Details
This is almost as important as the design itself. The listing details which include a title, description, tags, and categories, are used as factors to decide your position in a user search in the Zazzle marketplace. Yes, this is SEO for Zazzle and it is very important. So make sure you use keywords strategically in the details, but remember not to spam! That could be a major turn-off for your prospective customer. Another thing to add is the product listing actually gets indexed by Google, so the Google Keyword Planner can provide some help if you're not sure what keyword to use for your listing.
Pricing Strategy for Zazzle Marketplace
Before publishing your listing, you will also be asked to specify the royalty for your product. The default is set to 5%, you can lower or increase it based on your preference. However, I do recommend that you set your price as one of the following:-
$5, $15, $25, $50, $75, $100
Allow me to explain, this pricing strategy is so that the product price is more friendly to Zazzle's price search filter (see below). This has absolutely no impact on the sequence in which the product appears if the user sorts by popularity. But when a user sorts by price from low to high, the cheapest product within the price range will appear first. For example, one of the price ranges is $15 to $25. If you set your product price as $23, your product will not appear until after all the all products in the $15-$22 range. In terms of search results, it is always better to appear first.
Alternatively, you can also price your product in the following way which allows your product to appear in a higher position when the user sorts by price from high to low.
$4.95, $14.95, $24.95, $49.95, $74.95, $99.95
Finding Prospective Customers
For a product to sell, you will need to have prospective customers (i.e. traffic) who are willing to click and view your product listing on Zazzle. There are three main sources of prospective customers:-
(a) Zazzle search – Do keyword research, fill out your listing details properly, price your items strategically.
(b) Your own blog – Make sure that you're promoting your design in the right context. In general, promoting your product in-article produces the best result, but don't be afraid to try out banners and other forms of advertisement.
(c) Social media – First rule of promoting on social media is: don't spam. Another thing is to make sure that your design appeals to your followers. While the royalty is pretty decent, it is usually not enough to justify any ad spending. However, but if your calculation works out and you trust your instinct, I say go ahead and give it a try.
Generate More Profit by Sharing an Affiliate Link
As mentioned in the Associates section of this article, you can make 15% and more by using an affiliate link on your own products. Since there's no additional requirement in becoming an associate, there's really no reason why you should be capitalizing on this opportunity to make more money as a designer.
5. Conclusion
Zazzle is a pretty great way to make money through your blog. There are two ways to generate income through Zazzle, one is by becoming a Zazzle associate, two is by selling design on Zazzle marketplace. You can make 15% or more in commission as an associate. For selling through Zazzle, you get to name your royalty. If you're a designer, you should take advantage of both. As a blogger, design and recommend products based on your the preference of your reader and the theme of your blog. Price your products strategically. And don't forget to use an affiliate link so that Zazzle can trace the sale back to you.
6. Helpful Links
Here are some useful links regarding selling on Zazzle and becoming a Zazzle associates.
Feel free to let me know if you have any other useful information regarding Zazzle and I'll put the link down here.
Zazzle Designer/Associate Handbook 2017
Zazzle Associates – Volumen Bonus
Zazzle Associates – Creating Referral Links