Warmer days are finally here, it is time to get a new swimsuit for your trips to the beach and pool. Don't wanna lounge with an out-of-date bathing suit? Be sure to check out 2017 latest swimsuit trends. We have brought together a list of best swimsuit trends you can rock this summer. 23 best swimsuits from sweet ruffles, 90s inspired high-leg, sleek cut-outs, to sexy plunging style.
Scroll down to shop for your new swimsuit now!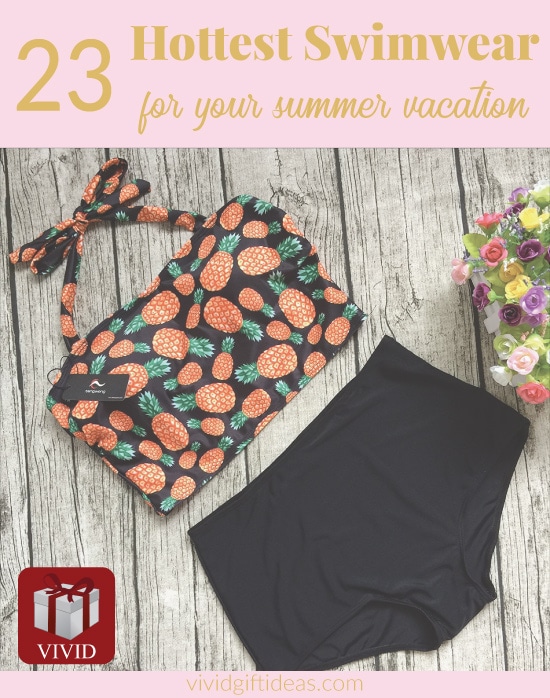 High-waisted bikini continues its trend in 2017. This retro inspired high-waist bikini is really adorable. Lovely pink color with pretty cactus print. High-waisted bottom to cover any problematic tummy issue, giving you the perfect hourglass shape. (Price below $40)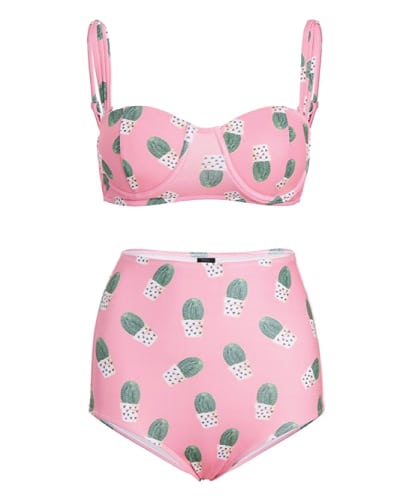 Swimsuits with Cute Statement
High-leg one-pieces with bold statement is another hot swimwear style in 2017.  We love the below designs. They are absolutely cute for you girls.
Stunning red with white letter. Looks sexy! ($15)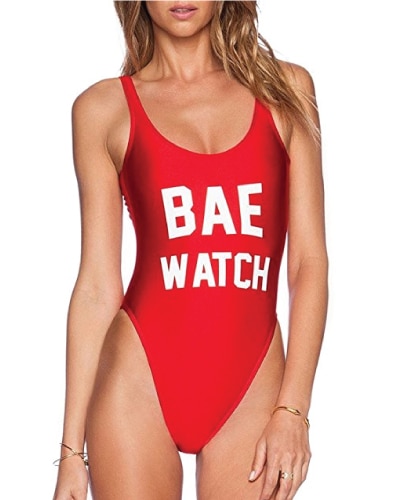 Black high-leg swimsuit with gold statement. Stylish and cool. ($25.99)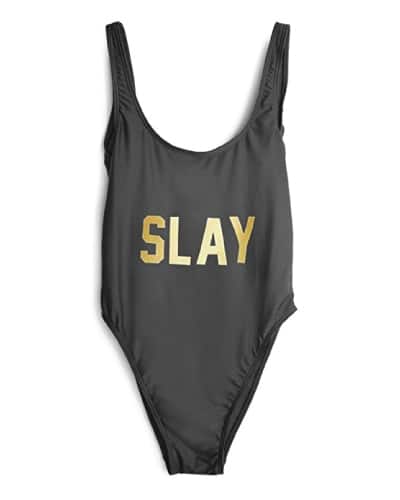 For the unicorn lovers. Pastel pink, backless design. ($15)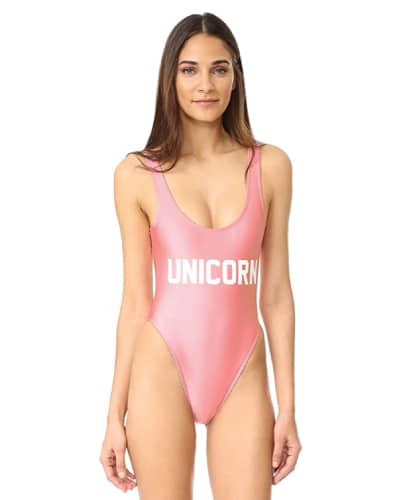 Purple bathing suit for girls who love mermaids. It says "Mermaids have more fun". ($15)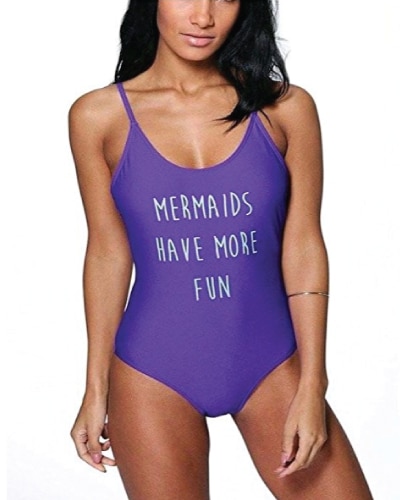 Pineapple and beach — the perfect match. You will never regret getting this pineapple bathing suit. Pineapple print top with black high-waisted bottom. Looks fun and summery! (Price under $20)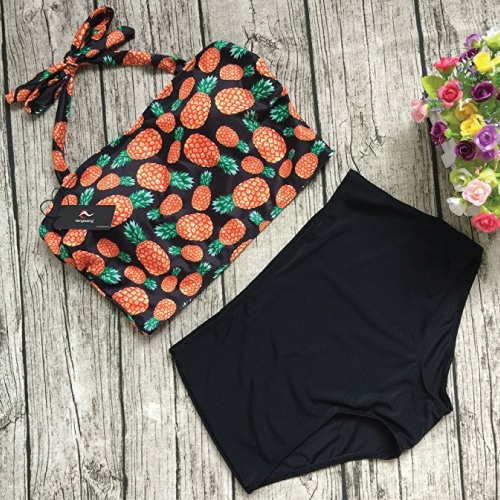 Cutout style is making a huge splash this year. This one-piece swimsuit with charming leaf design and stripes looks fashion-forward. It is perfect for your tropical beach vacation. ($29.99)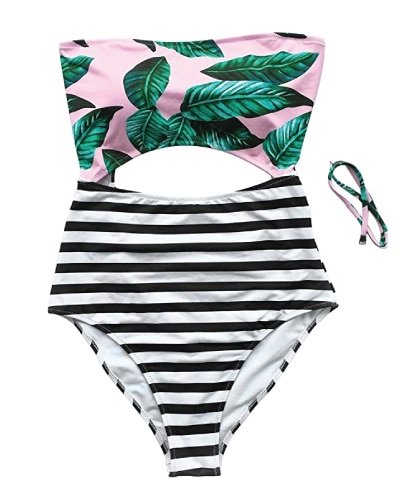 Off-the-Shoulder Style
Off-the-shoulder style is definitely not to be missed for summer 2017. If you prefer something more girly, be sure to pick those with ruffle design.
This set of pastel blue bikini is one of our most favorite. The baby blue color is appealing, the ruffle sleeve is attractive, and the overall design is not revealing. Modest, pretty, and trendy. You gonna love it! ($23.99)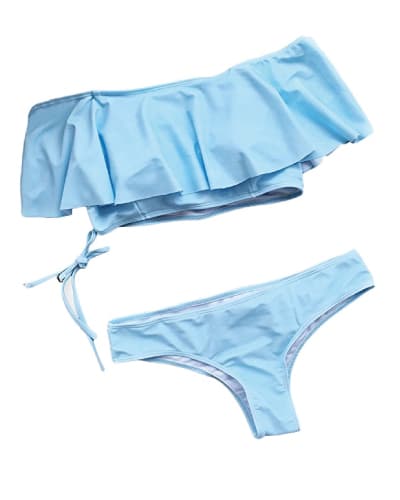 You can also lounge by the pool with this vintage inspired floral off-shoulder swimsuit. It is colorful and flattering. (under $20)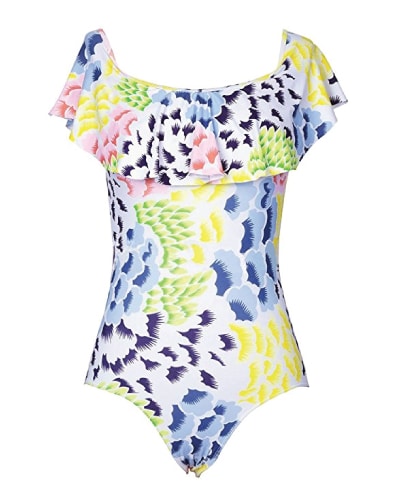 For more flirty look, try this palm pattern one-piece with plunging V-neck and side cutouts. 90's high-leg with retro vibes. A fabulous piece for you ladies! (Price below $25)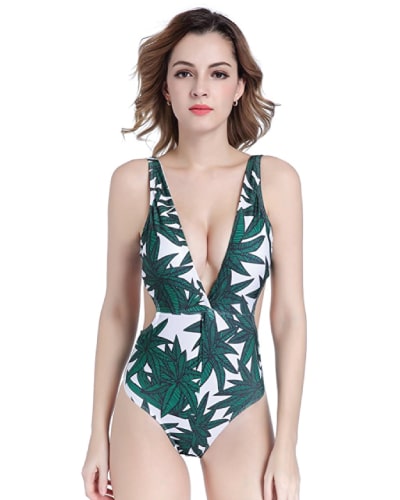 Crocheted bikini is a big hit this season. Opt for this handmade pink and sky blue trimmed bikini. ($10.99)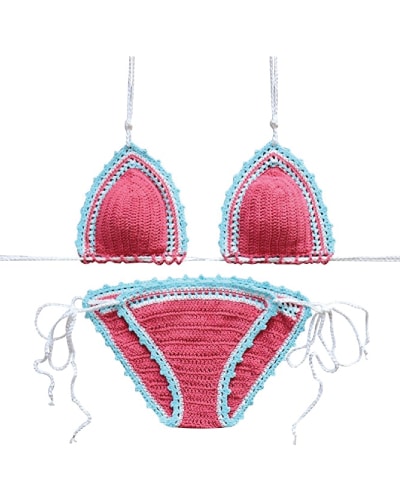 Or you can choose this watermelon crocheted bikini. ($16.99)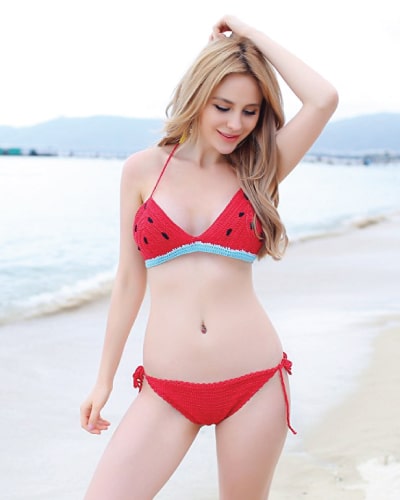 Bride white swimwear featuring gorgeous crochet and lace details. Adjustable straps with beautiful tulip tassel at the back. Looks elegant and feminine. ($120)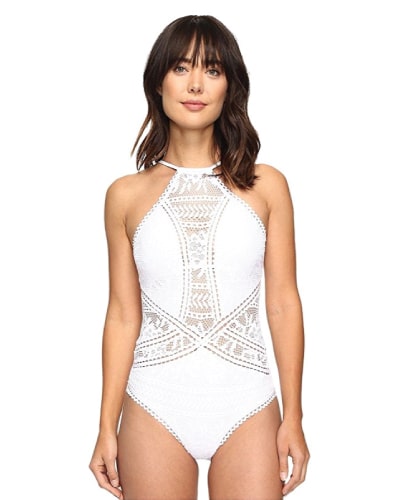 Gingham is also trending this year. You can get this 50's style swimsuit by Esther Williams. It has strong tummy support panel and ruched fabric in the front to give you a great silhouette. It looks flattering on all body types. ($60)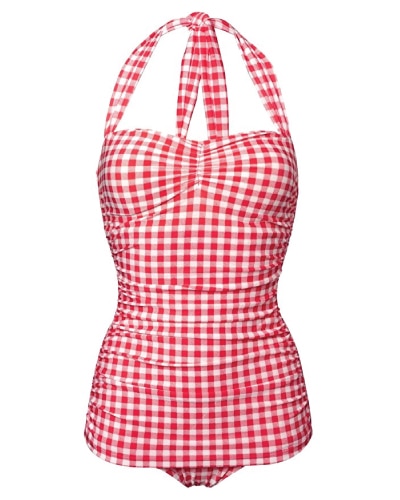 For clean and sleek look, try this striped one-piece under the price of $25.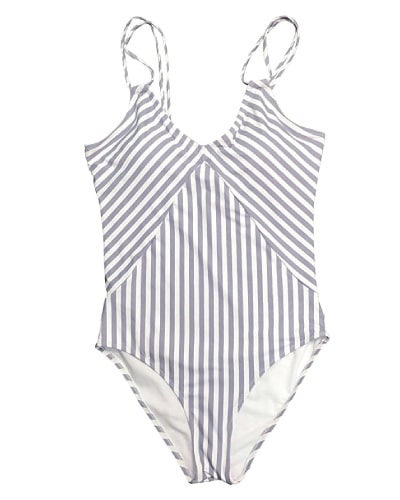 Bright yellow bikini with sweet-looking ruffles. Bathing suit that matches well with the sunny days. ($17.99)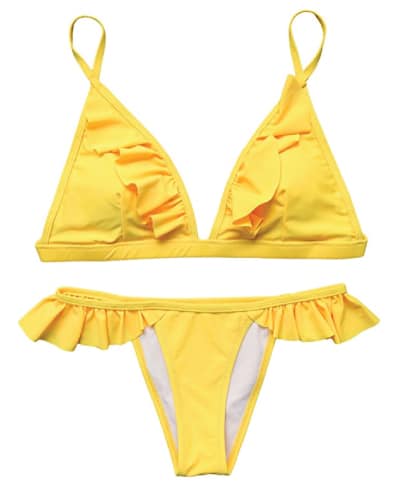 Beautiful lilac bikini set with bandage top and thong style bottom. It will definitely make you look hot! ($17.99)
Also available in red and blue.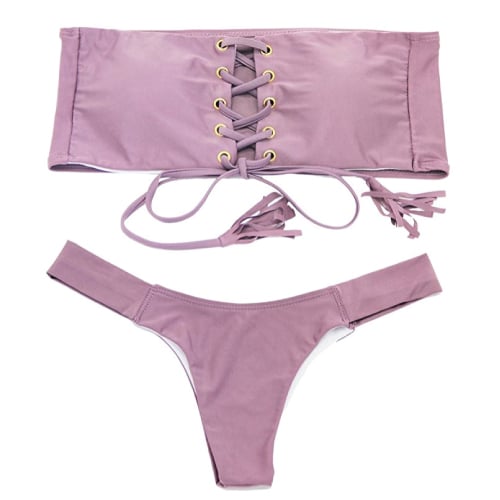 Rash guard swimsuit with palm pattern. Fashionable style, unique colors. (below $25)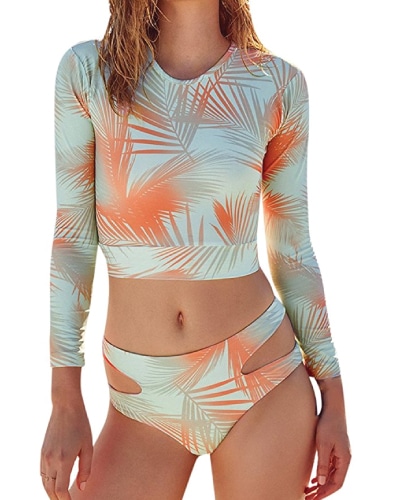 Amazing galaxy print swimsuit suitable for teens. Stretchable fabric with a zipper at the back. ($15)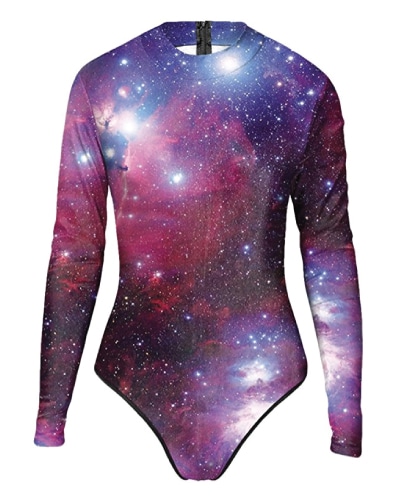 Do not forget to bring along a large beach towel. Let's get this gigantic watermelon to the beach. It is 5 feet wide, ultra soft, with vibrant colors. Definitely looks eye-catching! ($25)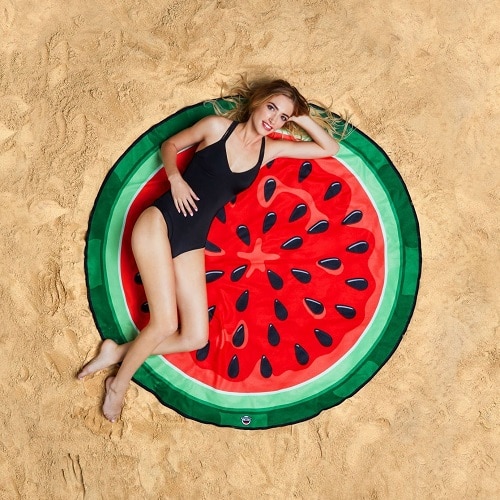 Cover-ups
Attention all mermaids! This kimono style beach cover up is your must-have for 2017 summer. It has black tassels adorned at the hem and the flowy pink fabric looks lovely on every girl. ($40)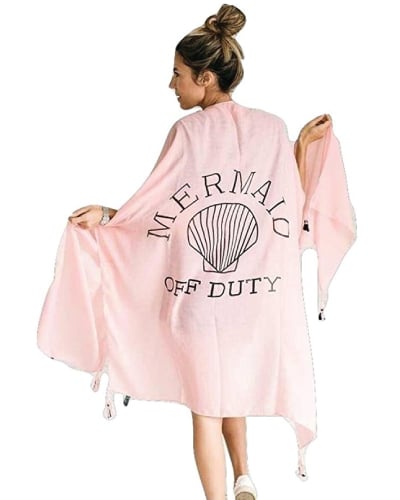 A cool-looking cover up you girls will love. Oversize tank top style with cute statement that reads "Palm trees, coconuts, beach waves, sunsets, vacation". (under $15)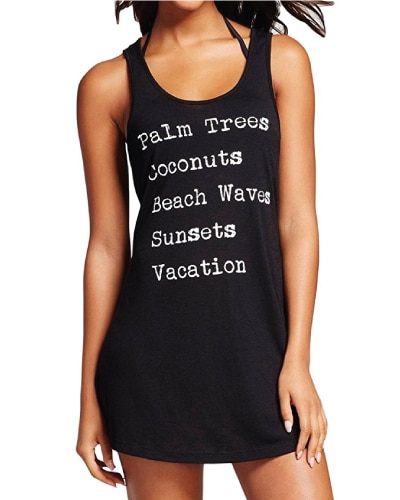 Boho style crochet cover up with drawstring neck and tassel designs. It is very soft and comfy to wear at the beach, poolside and tanning salon. Looks sexy and chic. (under $20)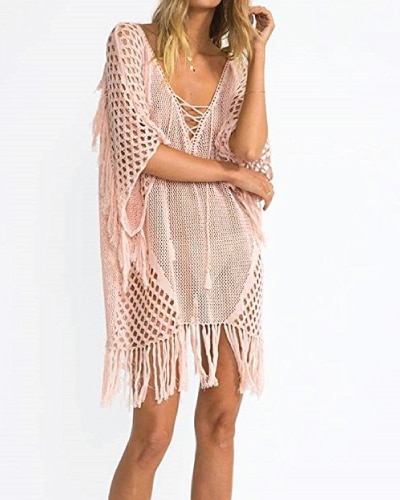 That concludes our list of 23 hottest swimwears for summer 2017. Thanks for reading and have a great summer!