Hi girls, are you looking for Christmas gifts for boyfriend? We have a list of 12 best Christmas gift ideas for boyfriend here. These items are unique, nice and affordable. Your man will surely feel the love inside and appreciate them much.
Read on for 12 Gifts to Get for Boyfriend This Christmas.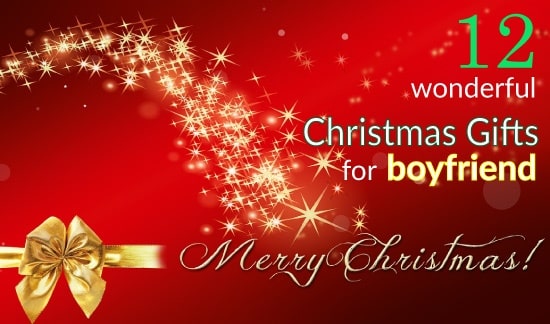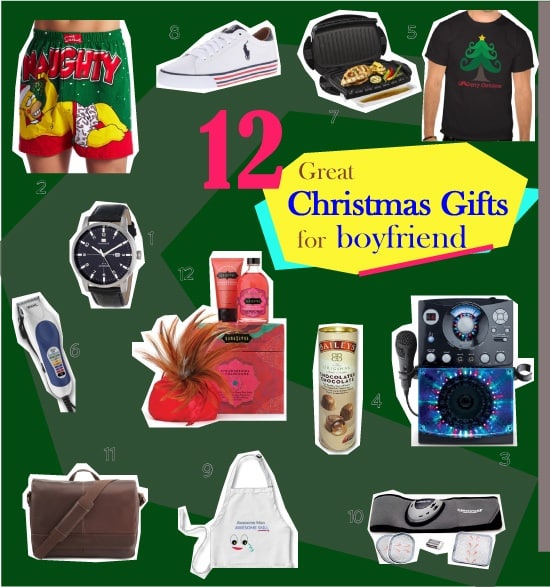 Sophisticated watch for men. Black leather strap with black face. Classy, sleek and clean design. This watch exhibits Tommy Hilfiger's all-American aesthetic. It looks smart on men of all ages. An elegant timepiece that tells time in style.
Something fun for the holidays. Cute Simpsons boxers for men. Vibrant colors, soft cotton. A festive-feel boxer shorts that boyfriend will be very happy to receive.
For him who loves singing and partying. This awesome karaoke singing machine will bring so much joy and fun. Main features include top loading CD player, 2 microphone jacks with separate volume controls, dazzling disco light effects, built-in speaker, auto voice control and more.
Sing your heart out and have a blast. This karaoke system will definitely become a big hit in the next party!
A box of gourmet chocolate makes a nice Christmas gifts for boyfriend. Baileys The Original Irish Cream Chocolates tastes heavenly. Finest milk chocolate with real Bailey's Irish Cream. It is a combination like no other. Tastes amazingly smooth and rich.
Cool T-shirt for boyfriend. Unique graphic with some sense of humor. Features funny-looking Christmas tree made of mustaches. This tee says "Merry Christmas" with a capital Mustachio M.
6.   Men Grooming Item
One of the best Christmas gifts for boyfriend – Wahl Color Pro Complete Haircutting Kit that is ideal for head and total body grooming. Solid and powerful. This kit includes color coded comb and key setting to guide him to his favorite hair length. Allow him to have professional cut at home without worrying to ruin his hairstyle.
Option II: Click HERE to see another best-selling all-in-one trimmer for beard, nose and ear.
7-program muscle toning belt to help your man stay fit and attractive. This toning belt is designed to fits into busy lifestyle. Users just need to put it on the waist and go on with whatever chores you are doing. It helps strengthen core ab muscles and reduce flabby belly with continuous use for 6-8 weeks.
(Hey girls, if you get this for your boyfriend, you can also use it to firm up your tummy! )
A pair of nice shoes also makes a great present for him. He will love this stylish shoe by Polo Ralph Lauren. Simple and classic design. It goes well with any casual wear.
Made from 100% canvas. It is durable and comfortable to wear.
If you want to get something funny, we recommend this apron. Hilarious pair of eyes implies the awesomeness of your man's skill. He will be very proud when wearing it.
For Christmas, you can get him some luxurious leather goods. Briefcase, belt, wallet are wonderful choice. He will appreciate this sleek messenger bag by Kenneth Cole. Made from rich Columbian full-grain leather, this bag is good looking and functional.
Spacious compartments with zipper pockets. Fits laptop, documents, books and more.  A handsome bag loved by men.
Excellent portable grill for men who love cooking and grilling. Features removable large cooking plate that fits 5 servings. Heat up fast and evenly, it allows easy grilling. Extra oil and fat drips into separate tray with the well-designed slightly sloped plate. No leaking issues, makes cleaning easy.
Mini size good for saving space on countertop.
The last item in this guide – bring out the naughtiness in couple's life. This little box of surprise will spice thing up and lead to moments of pleasure. Include: Kama Sutra oil of love, honey dust with feather applicator and stimulating pleasure balm. A romantic gift that will surely thrill your boyfriend.
That's the list of 2014 top Christmas gifts for boyfriend. Thanks for reading.
Follow us on Pinterest!