This post is dedicated to our readers who want to buy gifts for young ballerinas. Below we have provided a list of 12 items loved by little ballerinas ranging from ballet attire, toys to room décor.
Read on for our list of unique gifts for young ballet dancers.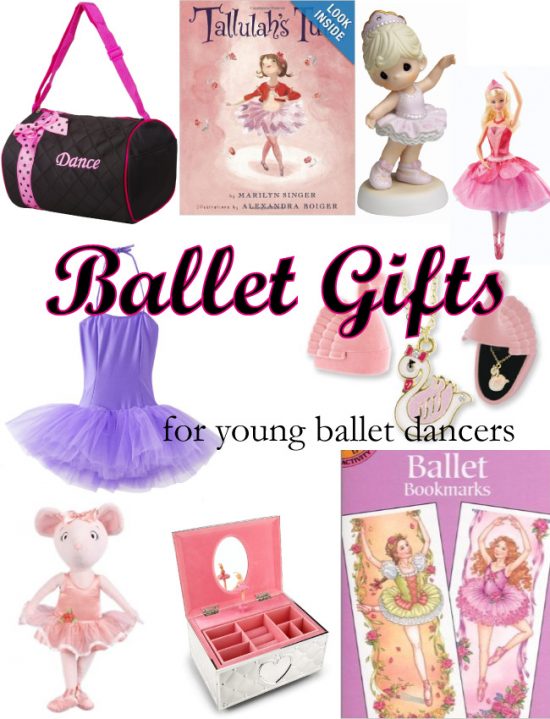 Best Gift Ideas for Young Ballerinas and Dancers
1. Leotard and Tutu
Your little ballerina needs a cute piece of dance attire to dance in. They will be happy if you can get them a leotard or tutu dress. Pink, purple, white and baby blue are the little fairy's favorite.
2. Jewelry
A piece of ballet-theme jewelry would be another great gift ideas for the little ones.
3. Hair Accessories
Hair accessories like hair pin, headband, hair net and elastic band are needed to keep your little princess's hair neat for ballet class.
4. Jewelry Box
Every little girl loves to own a musical jewelry box. This is another great gift for young ballerinas.
5. Dance bag
When your little ballerina goes to class, she needs to pack all her dance stuffs in a bag. A cute and easy-to-carry dance bag would be another gift you can get for her.
6. Toys
Kids love to play. Another gift ideas for young ballet dancers would be a plush toy or a doll.
8. Ballet Book
You can get a book as a gift for your young ballet dancer. A story book or a guide book with photos can be fun and help them gain more understanding about ballet.
9. Ballet DVD
If your little ballerina dislike reading book, then you can get her a ballet DVD.  A classical show like Swan Lake, The Nutcracker, Romeo & Juliet, and Giselle are enjoyable. An instructional type of DVD that teaches basic steps are also fun to watch.
10. Room Décor
Another idea for your beloved young ballet dancer would be to help her decorate her room by adding more ballet elements. Lamp, poster, figurine, curtain, wall decals are some of the choices.
11. Ticket to a Ballet Performance
If you do not have time to look for the above items, then getting a ticket to ballet show would be another simple idea.
12. Flowers
The last gift idea on our list would be to buy her a bouquet of flowers and attend her dance performance. She will be touched by your support.
We hope that you like these gift ideas for young ballet dancers. Check out our other ballet related posts for more gift ideas.