In this post, we are going to unravel 10 great gifts for mom. These are the perfect gifts for your mom whether for her birthday, Christmas or any day you would like to show her your love and gratitude. Read on for the 10 gift ideas for mom.
(Tips: click on the images below to view more details)
16 oz elegant container made of quality crystal material. Thick and beautifully crafted. A wonderful addition to your mama's bedside table. It comes with a matching cup. Perfect for quenching thirst during nighttime.
This bean bag chair is filled with soft and durable patented fuf memory foam. It has a nice and soft cover. Can be re-fuf again for different positions. A very comfy piece. Your mom will love to use it for watching tv, reading, napping, and even sleeping.
A pretty kitchen utensil. This pitcher is made of ceramic and it is dishwasher safe.  The painting is gorgeous and it can add some French or vintage feel to her kitchen.
Lovely gift for mom with green thumb. This pottery planter crafted in water lily shape is cute and well made. It enhances the appeal of any plant.  It is nicely glazed and the colors are vibrant. Fits small plant.
Artwork is another great gift for mom. This amazing Tree of Life wall hanging has vibrant design with pleasing colors. 100% cotton and handcrafted in India. It comes with loops at the corners for hanging. Available in beige, blue and candy color. A truly gorgeous piece for wall decoration.
If your mom loves beauty products, then you can get her this set of assorted natural soaps by Plantlife. Made with organic ingredients and pure essential oils. They are mildly scented and gentle to the skin. This set includes 6 pieces of 4 oz soaps (Ginger Berry, Lavender, Lemongrass, Patchouli, Peppermint and Vanilla Orange).
For yoga lovers. This yoga mat bag has 3 pockets and the full zipper makes it easier for taking out & keeping in yoga mat. It fits most mats (even the large one) and other workout essentials like water bottle. It is canvas and has adjustable strap. The material is soft yet durable. Your mom can now goes to yoga class in style and comfort.
Adorable gift for mom who loves kitchen. This set of 12 beautiful clear jars is from Italy. Capacity is 5 ounce each. Dishwasher safe. Perfect for canning jams or storing spices.
Make your mom looks great by getting her this stylish accessory. This is a set of 6 vivid colored bangles, embellished with metal studs and intricate overlays. Nice quality,  great size. Perfect to mix and match with any of her favorite clothes.
10.   Decorative Vase
This circular wooden vase with a carved leaf accent is a very simple yet graceful piece of decoration you might wanna get for your mom. Looks good on mantle, table and even on the floor. Gives a modern and unique touch to the living room.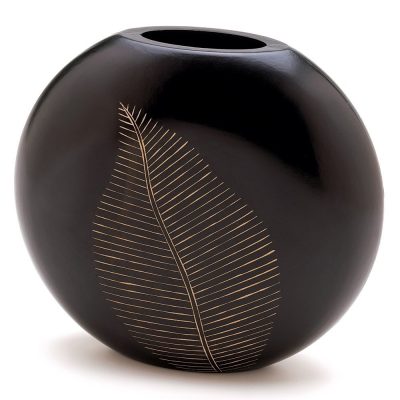 Check out our other posts that you may like: 12 Gift Ideas for Working Moms , 10 Gift Ideas for Tea Lovers , 6 Gift Ideas for Cat Lovers (And Their Cats)  , 8 Gift Ideas for PC Gamers , and Gifts For Him Series